Paella valenciana (Castellón/Sierra Espadán).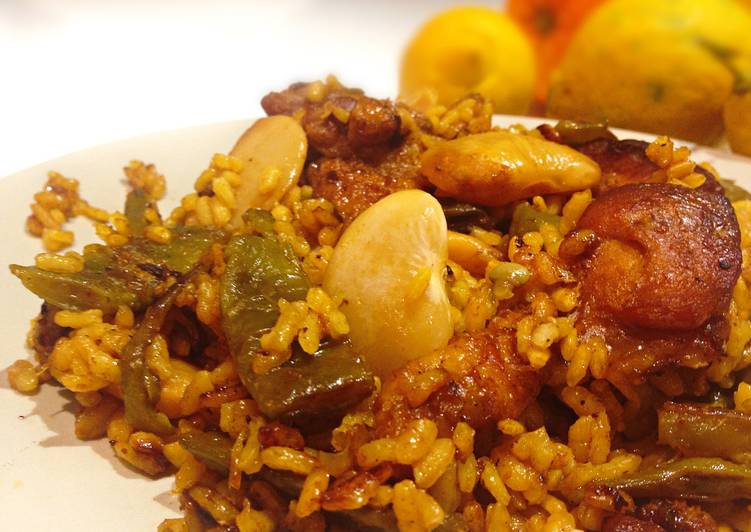 You can have Paella valenciana (Castellón/Sierra Espadán) using 22 ingredients and 24 steps. Here is how you achieve that.
Ingredients of Paella valenciana (Castellón/Sierra Espadán)
It's 700 gr of arroz redondo.
You need 1 kg of pollo de corral con los hígados.
It's 1/2 kg of conejo con los hígados.
It's 1/2 kg of judía/alubia verde plana (mejor estrecha y sin grano, no muy larga).
Prepare 300 gr of garrofón congelado (mejor fresco, pero en BCN dificil de conseguir).
You need 200 gr of tomate maduro fresco rallado (con saborrr).
You need 2 cucharillas of pimentón de la vera dulce.
It's 1/2 gr of azafrán en hebras (más calidad) o molido.
You need 2 dientes of ajo.
Prepare 1 of cerveza pequeña normal.
It's 200 ml of aceite de oliva virgen extra.
You need 4.5/5L of agua corriente (mejor calcárea/dura).
You need of sal marina.
It's —- of Ingredientes extra de temporada que añado siempre que puedo:.
You need of judía "Tabella".
It's of alcachofas pretas.
Prepare of "pesols de'estirar/tirabeques".
Prepare of caracoles.
You need of "Pilotes de Nadal".
You need un toque of pato.
Prepare of romero.
Prepare of costilla de cerdo (pero a mí no me gusta demasiado).
Paella valenciana (Castellón/Sierra Espadán) step by step
1 preparativos: Cortar en trozos pequeños la carne, respetando los muslos del pollo y las paletillas y muslos del conejo, así como los hígados de ambos. Reservar..
Limpiar y cortar en trozos de 3 dedos la judía verde plana. Reservar..
Limpiar y rallar el tomate. Picar muy menudo los dientes de ajo e incorporar al tomate. Reservar.
El garrafón si tuviéramos fresco, desvainar y conseguir unos 250gr en grano. Si sólo disponemos de congelado, reservar..
Tener a mano el resto de ingredientes: arroz, pimentón, azafrán, cerveza, sal..
Si tenemos agua caliente, esperar hasta el momento de hacer el caldo. Si no, tenerla preparada..
Comprobar el nivel de butano/gas (ojímetro: a peso). No es la primera vez que me he llevado una sorpresa a mitad de la paella. Un follón. Iré jugando en mi caso con los dos aros que tiene el difusor de gas, según necesidad..
2 al tema (paella a gas): Encender el aro interior al mínimo y "nivelar" la paella (esta era de 45cm de diámetro, pero mejor de 50cm para 7/8 personas): debe quedar el aceite caliente en el centro. Cubrir aproximadamente la mitad del diámetro..
Esparcir una cuchara de sal con la mano por la superficie de la paella y remover con la parte plana de la espumadera para mezclar con el aceite..
Incorporar los hígados y alrededor el resto de la carne. Dorar muy bien los hígados a fuego medio con el aro interior. Aportará sabor al caldo. Retirar y comerlos como aperitivo para "el Vermouth" o reservar para incorporar con el caldo..
Dorar muy bien la carne poniendo en el centro primero los trozos más grandes (muslos de pollo, etc). Fuego medio con los dos aros..
Apagar el aro exterior y retirar la carne a los bordes..
Incorporar la verdura (judía verde, garrofón fresco (si tenemos)..
Dorar a fuego medio. Sazonar. Retirar a los bordes. Si tuviéramos alcachofas las cortamos a cuartos y las doramos antes que la judía..
Sofreír el tomate con el ajo un poco e incorpora el pimentón. Sazonar y mezclar. Seguido, remover con la verdura y la carne..
Incorporar la cerveza, remover y dejar cocinar un poco..
Añadir la mitad del agua y encender el aro exterior. Tomar medida de altura del agua. Cocinar a fuego alto. Cuando empiece a hervir mantener 2 minutos e incorporar el resto del agua..
Salar y espolvorear el azafrán (en su defecto sazonador, colorante, etc)..
Si tenemos romero fresco incorporamos tres ramitas repartidas por la paella y dejamos cocinar unos 7 minutos. Retiramos..
Transcurridos unos 15-20 minutos con el caldo en ebullición tastarlo con una cuchara y retocar de sal si fuera necesario. Debe de quedar caldo suficiente para hacer el arroz (recordar la medida de altura tomada anteriormente). Con la experiencia, no necesitarás estas referencias para calcular..
Incorporar el arroz, esparciéndolo bien por la paella. Que no queden granos encima de la carne. Puedes utilizar la técnica del caballón, de la cruz etc. Si utilizas la cantidad que toca no la necesitarás..
Cocinar a fuego alto unos 5-7 minutos, "bailará" el arroz. Cuando veamos que ya no baila, bajamos los dos aros a fuego medio..
Sin remover mantenemos hasta que no se vean burbujas del caldo, bajamos el fuego y controlamos. Ahora toca afinar la nariz y con ayuda de la mano nos acercamos el vaho que emana la paella y cuando empecemos a oler a quemado, apagamos el aro de fuera y después de 1 minuto apagamos el aro interior. Si lo hemos apurado bien, conseguiremos el tan apreciado "Socarrat"..
"Alea Jacta Est " La suerte está echada..